By Kel Weinhold
Finishing a research project is a big deal. (Hell, finishing a section of a research project is a big deal!)
If you are coming up on finishing something, I hope that you're letting the excitement of finishing in. I I encourage you to take the time to do a little dance and celebrate:  "I'm almost there! I just have a few more things to do and I'm almost there."  Allow that joy in for a minute.
If you need company to be able to feel that, then let's do it together.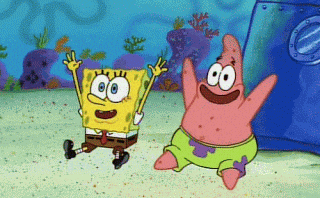 "You're almost there! Yeah, you! You're almost there!"
That's just the way I feel about it for you.  It's a really awesome thing!
---
Now that we have celebrated being really close to finishing, let's make sure you aren't getting in your own way in crossing that finish line.
One of the common things that we writers do to keep from finishing is beginning to focus on what's wrong with our work. In particular, we focus on minutiae that have little bearing on the work effectively moving to the next level.
When we look for what's "wrong," we end up trying to fix more and more and more and more until we're down to fussing with a single verb in a single sentence. That kind of nitpicking can get you in all sorts of trouble.
Here's the thing. Our brains like to solve problems. Looking for problems is not solving them; it's detecting. And without clear guidelines (How are you defining "wrong" and "not good'?) detecting problems results in spinning in circles that do not allow for breaking free and submitting the work.
Want to finish? Start asking questions (and keep repeating those questions) that focus on finishing rather than perfecting your work.
Road to disaster ? Is this good?  What needs to be fixed? Is this the right word?
Exit ramp to next step ? What's the minimal amount I need to do to make it a first draft?  What is required to give it to my reader?  What is the minimal requirement for submitting?  What's the minimum I need to do at this stage to get this out the door? What do I need to do to have this ready for the next step?
Repetition is key
Remember, your brain loves to answer questions. So, keep asking. What do I need to do to get this out the door?  Find and model places in your life where you learned that nudging pays off. Keep asking. What can I do right now to get this closer to out the door? Think of yourself as that nagging kid asking for an explanation. Ask again. What's the least I can do to get this out the door?  Repetition by repetition, wire in a practice of constant inquiry rather than critique. What's the minimum I can do at this moment to get this out the door? 
Then do it.
Want daily (and more thorough) advice and support?
Consider joining Unstuck: The Art of Productivity.
Similar Posts: